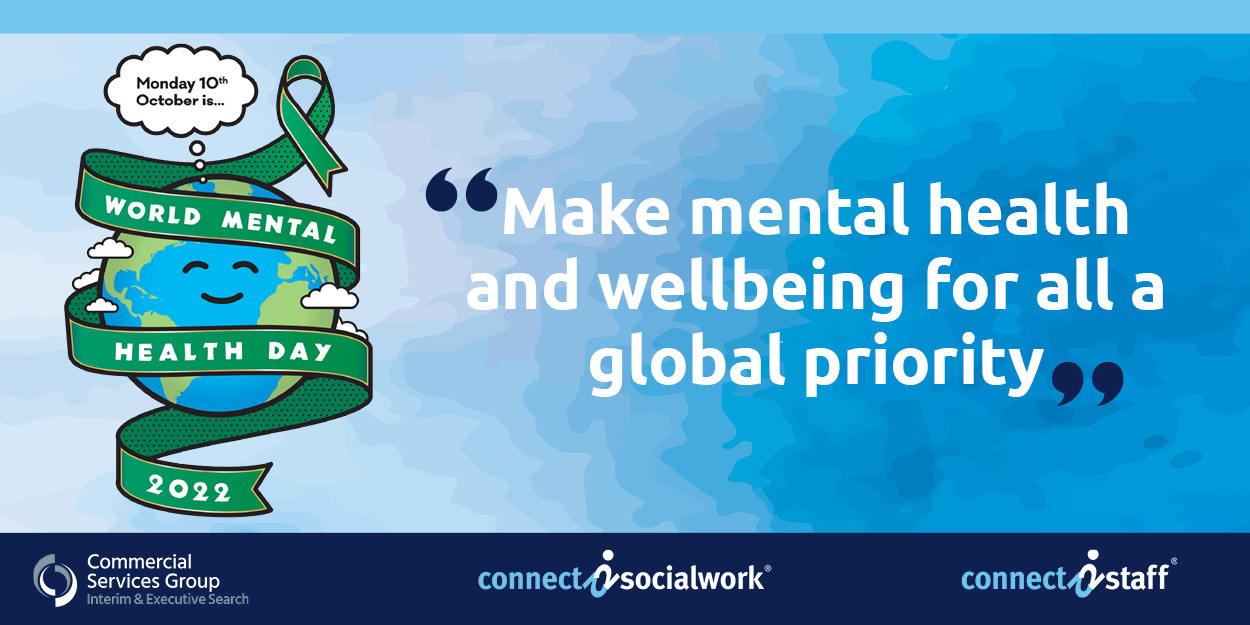 10 October 2022
World Mental Health Day 2022
World Mental Health Day 2022's theme is "Make mental health and wellbeing for all a global priority", set by the World Federation for Mental Health.
All of us are affected by mental health problems at some point in our lives. Whether we experience these problems in our families, in our workplaces, or in our communities makes no difference. Everyone experiences them and they must be treated as common or as a physical health problem. Mental ill-health must be treated the same and prevented as much as possible - both individually and collectively. 
Besides promoting mental health awareness, World Mental Health Day is also an opportunity to discuss how much we need to look after ourselves, and how important it is to get help if we are struggling. So for this blog, we have some tips for when you are struggling with your mental health.
Relax
While this seems an obvious statement, there are steps you can take to make sure you are actually relaxing rather than just thinking that you are. Take a break from whatever it is you are doing, particularly if it is stressing you out or upsetting you. Have a change of scenery when you are feeling overwhelmed even if it is just for a moment. Perhaps try and do something that you enjoy or something that you know relaxes you like a bath, exercise, a hobby, etc.
Communicate
This doesn't just mean communicating your problems and feelings to others around you but just simply connecting with those around you. This will eliminate feelings of loneliness. If you are struggling to find opportunities to talk to people in person then you can consider volunteering, taking a class, going to a group workshop, or any other group activities that are open to the public. It also doesn't need to be in person, there are many sites designed for people who may want to vent their stress or meet new people. It's also hugely important to communicate how you're feeling to others. Many people are always willing to help or at least listen. Opening up to those around you, especially those who have been through similar experiences or would understand, can eliminate or reduce many other negative feelings you may have.
Take care of your health
Your physical health can have a large effect on your mental health. If you don't take care of yourself then that can have a bit of a snowball effect. Make sure that you are drinking plenty of water every day, many other substitutes for water may have adverse effects like an increased heart rate from caffeine causing anxiety, etc. Your body will go into panic mode when not given enough water so it make sense it would upset you physically and mentally. This would of course go hand-in-hand with getting enough sleep and having a healthy diet. Drugs and alcohol are another huge factor that many people forget to consider having a longer-term effect on their mental health. Making sure your body is in a healthy condition is one of the first steps to improving your mental health.
Be mindful
Being mindful means being present in the moment you are in. In other words, it means to consider how you and your surroundings are at your current time rather than worrying about hypothetical scenarios that might happen in the future, or worrying about things that have happened in the past. This isn't a statement to trivialise those thoughts but to instead take a moment to stop thinking about those when it begins to overwhelm you or affect your mental health.
There are many more ways that you yourself will be able to improve your mental health and these may be solutions that may be more specific to you such as breathing exercises, calming audio, etc. and we recommend that you dive into discovering these solutions.
Share this blog post
Why not subscribe to this blog and receive blog updates!
Subscribe