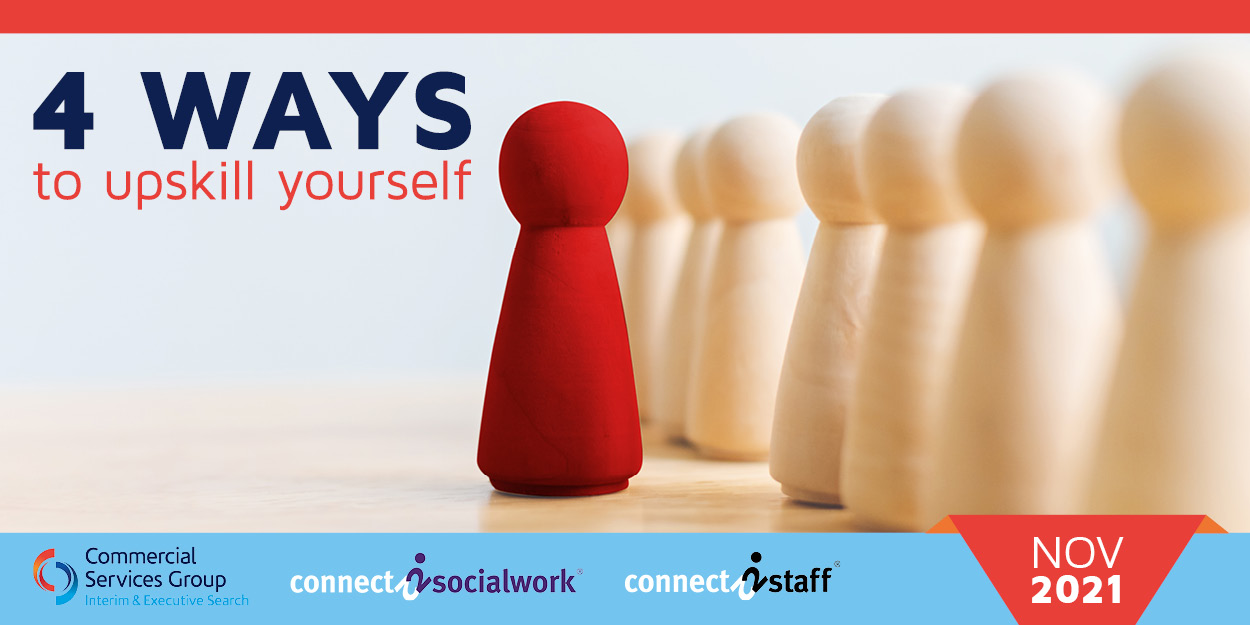 24 November 2021
Ways to Upskill Yourself
Thinking of a career change but not quite feeling confident in your knowledge/experience? Considering coming back to work after time away? Leaving education and not sure what the next step may be? Or simply want to learn a new skill or improve on an existing one? Whatever your situation, there are several things you can do to upskill yourself and help you stand out amongst the crowd!

 
1. Take some courses
We live in an evolving virtual world, with hundreds of opportunities available from the comfort of your own home. Plus, loads of them are FREE! Simply type 'free online courses' into your search engine and find the one that stands out. Some particularly useful ones can be found on Google Digital Garage and include 'Land your next job' and 'English for Career Development', plus several more niche topics depending on your aspirations. Alternatively, Coursera have a wide range of courses available covering many subjects – start exploring! 
2. Attend virtual events and webinars

 
Due to the pandemic, a lot of in-person events were taken online and this seems to be a successful platform that will continue for many for the foreseeable future. This means that events that perhaps weren't accessible before now are, and are sometimes recorded for later viewing, so no need to worry if you can't make the time! Virtual events and webinars are a great way to hear from experts in the field, and gain some insight into the possible roles you are looking at. Plus they're bound to give you some talking points for your next interview!
3. Listen to podcasts

 
Similar to the virtual events and webinars, podcasts are an accessible way to gain some more knowledge, and stay engaged on-the-go. Check out our blog post from August where we explored some of the top ones we've been listening to! Top Job Podcasts to Listen to this Summer (connect2hampshire.co.uk)
4. Take on some volunteering work

 
If you're in the position where you have some free time to give, there are plenty of incredible organisations around the country that you could volunteer and expand your horizons! To find opportunities near to you, you could visit websites such as Do-it, CharityJob, Volunteering Matters or Reach Volunteering. By undertaking voluntary roles, you can gain valuable experience, and it gives potential employers an insight into your personality and shows you're driven by more than money. 
Whatever you decide to do, remember to add it to your CV where relevant and talk about it when networking and during interviews. In a competitive market, it could be the thing that gives you an edge and secures the role!
Share this blog post
Why not subscribe to this blog and receive blog updates!
Subscribe