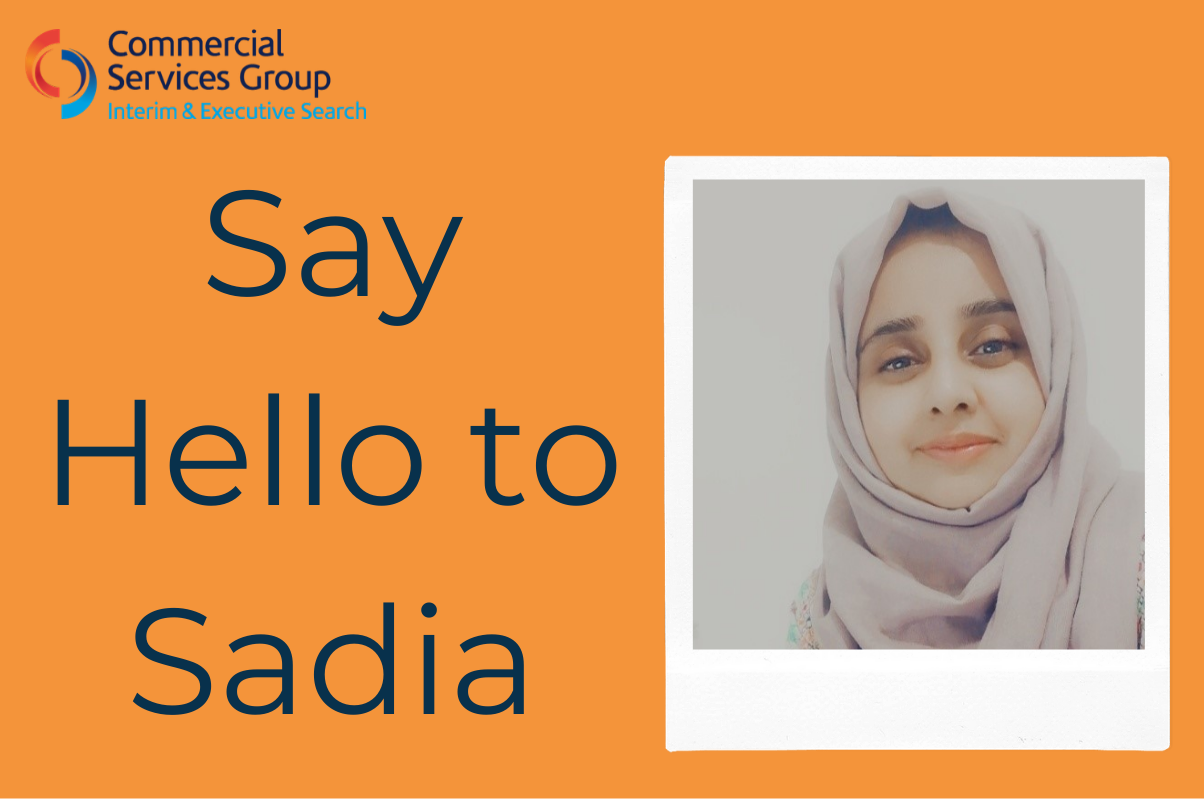 02 July 2020
Say Hello to Sadia!
Say Hello to Sadia, she is a Resourcer on the busy Interim & Executive Desk. We wanted to learn more about her background and how she is finding working for Commercial Services. Let's see what she had to say; 
Tell us about your experience?
I have recently completed my masters in Organisational and Business Psychology and I started with Commercial Services in January 2020. I had been working in recruitment for a few years back home but I was very excited to start my new role in the UK. It was my first full time recruitment role within a structured and well established environment. The first month was crazy as there was a lot to learn and every few days there was some sort of training.
By the beginning of March, I was on track and felt in control of what I was assigned to do, however then the coronavirus pandemic occurred. Within a few days, the office was closed and we were told to work from home. For someone like me who has just started her career in a new country, it had been the most uncertain time. But thanks to my academic background in Clinical Psychology I was able to stay sane during this troubling time. 
How are you finding it working from home?
Working from home was not as simple as it sounded for me, the most difficult thing was to keep myself motivated to work on my personal laptop without distractions when there was no supervision. I soon realised there is a fine line between personal and professional lives and when it gets blurred, things can become complex. So before I went on furlough (16th April), I had to work hard to get disciplined to ensure I was on top of the game. But after furlough, I was somehow accustomed to the new norm. I think getting a bit dressed up, having your breakfast on time and following as much office routine as possible helps a lot to stay motivated.
What do you like to do in your spare time?
During lock down, I learnt quite a lot of new skills especially when I was on furlough. I tried my best to equip myself with all the skills that I felt like I was lacking and whatever is required to boost my career in a new country. On the other hand, I had high aspirations of spending summer time visiting new places in England but due to lock down, I could not do this. I'm happy that life is starting to get back to normal and I am hopeful that I will be able to explore the country this summer.
If you are looking for a new Interim & Executive role then get in touch with Sadia today!
Sadia Hafeez
Talent Researcher
Specialisms: Management, Executive & Interims Executive
Tel: 01622 236641
Share this blog post
Why not subscribe to this blog and receive blog updates!
Subscribe