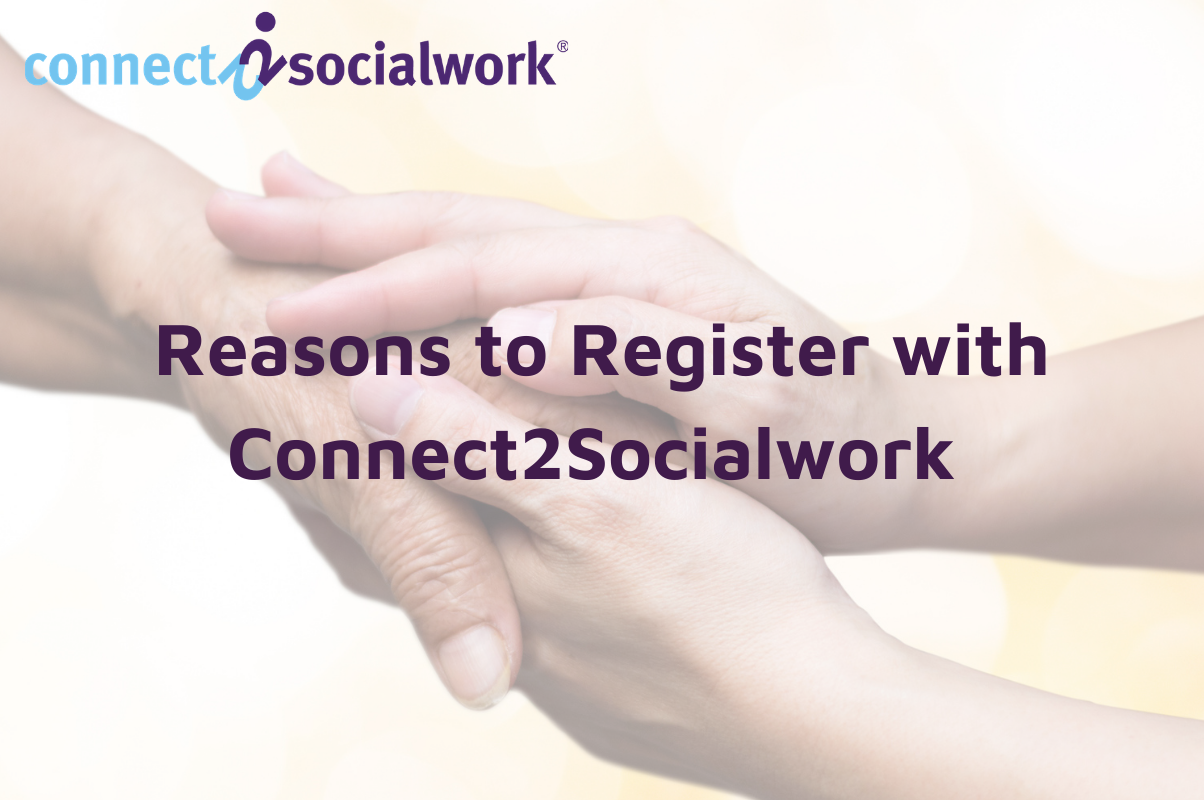 14 October 2020
Reasons to Register with Connect2Socialwork
Whether you are a seasoned locum worker looking to sign up with another agency, deciding to make the jump to leave permanent employment for the first time or looking for that next permanent opportunity but have no idea where to look, deciding which agency to register with can be daunting. There are a lot of QSW agencies out there and many will have similar jobs, benefits and perks for registering with them but here are some reasons why you should consider signing up with Connect2Socialwork to represent you for your locum and permanent roles:
1. Connect2Socialwork is wholly owned by Kent County Council
Yes, that is right! We are an agency owned by a local authority. This means that all the profits we make, goes back into the council for frontline services, including Children's and Adults Services. So by working for us, you are helping to put more funds into services that are already underfunded.

2. Work for an agency part of a much wider brand
Connect2Socialwork is just one brand of many that falls under the Commercial Services Group which is now one of the leading suppliers of products and services to other publicly funded organisations, including education establishments, local government, emergency services and the voluntary and community sector. You may have heard of our sister companies – Connect2Kent, Connect2Staff, Connect2Hampshire, and newly added Connect2Luton. We work so closely with all our colleagues from these teams and we love being part of the wider brand, especially with future potential additions to the Connect2 family.

3. We work with over 70 local authorities, fostering agencies and NHS Partnership Trusts
We supply across the country to a number of different councils, NHS Partnership Trusts and fostering agencies, both for locum and perm roles, so our dedicated team can find you the perfect role. We are first tier for several of the vendors, so we can get your CV sent promptly ensuring quick interviews and placements.

4. We provide specialist training and help with CPD
Connect2Socialwork understand social workers need to continually train and add to their professional development so we can help! We provide free and heavily subsidised training for our candidates, whether it is to help towards the renewal of your Social Work England registration or if you simply want to add to your own personal development.

5. Refer a friend scheme
If you refer a friend to Connect2Socialwork, we will give you Love2Shop vouchers or a sum paid to your umbrella company (subject to tax). The amount is usually £250 but we sometimes have special increased offers, so keep your eyes peeled on our social media pages!

6. Free DBS and dedicated compliance team
Connect2Socialwork offer a free DBS to all our QSW candidates. We also have a dedicated compliance team who work tirelessly to make sure all our candidates are always fully compliant.

7. Reliable payroll service with dedicated candidate portal
We understand working in social work is busy and pressured so let us take away payroll worries. Our payroll team are super hardworking and ensure all our candidates get paid every week. If your timesheet gets authorised after our deadline, we can arrange for a payment to be made to you up until the end of the week.
We also have our own dedicated candidate portal. You can submit timesheets, check if they have been authorised, update your CV, check for new suitable roles and request holiday leave (if PAYE).
We also have a preferred list of compliant umbrella companies, either FCSA or Professional Passport, so you can ensure you are being paid inline with HMRC policies.

8. Experienced, friendly, and knowledgeable consultants
The combined recruitment experience of our consultants is over 30 years. Our consultants will work tirelessly to find you the perfect role. We will listen to your requirements and only send your CV for roles you want to be put forward for. We are always on the end of the phone if you need help with a new role, pay queries or just a general chat. Our goal is to provide a great personable experience in helping you secure that perfect role.
But don't take our word for it – check out some of our most recent testimonials.
Testimonial 1 - Team Manager, Devon
"Rachel has been my consultant since February of this year. Rachel has been available, she is polite and always helpful. I was most impressed that Rachel kept in touch during lockdown. The weekly emails that I get from her add a personal touch of reassurance.
This has been a most successful placement for me, and it is helped by Rachel providing the support. I look forward to a long and happy relationship with her." 
Testimonial 2 - Senior Practitioner, Kent
"Lisa is very knowledgeable and supportive in her role as my consultant, if there are any issues that need to be addressed, they are addressed in a timely manner and resolved. Lisa has been my consultant for a considerable time and I have always found her helpful, she will explore a variety of work options that become available to meet my skills and abilities as a Senior Practitioner.
During the pandemic, Lisa checked in with me and ensured that I had the correct PPE in place, when I had no supplies at the beginning of the pandemic, Lisa ordered items required and ensured they were sent out in a timely manner.  I have no intention of moving agencies and I am happy with the service I receive."
Testimonial 3 - Social Worker, East Sussex
"My experience of having Rachel as my consultant has been a very positive experience. I felt that from the first day she made contact with me, she kept me up to date with the positions available. It was my first experience of using an agency to find a Social Work role and she explained the process and made me feel at ease.
It was a surprise to receive a diary and card from Connect2Socialwork and very thoughtful as it can be stressful to return to work. When she was not available, her colleagues supported me and it was clear to see that she had handed over appropriately and ensuring someone chased up the approval of my timesheet. I appreciate all of the support on my Social Work journey."
Testimonial 3 - Senior Practitioner, Kent
"As an agency you are doing great. My only regret is I did not join the agency earlier. Sian and her colleagues are very considerate and the love, respect and support is unbelievable."
Get in touch today to speak to one our consultants about how they can help you find your next locum or permanent role.
Share this blog post
Why not subscribe to this blog and receive blog updates!
Subscribe