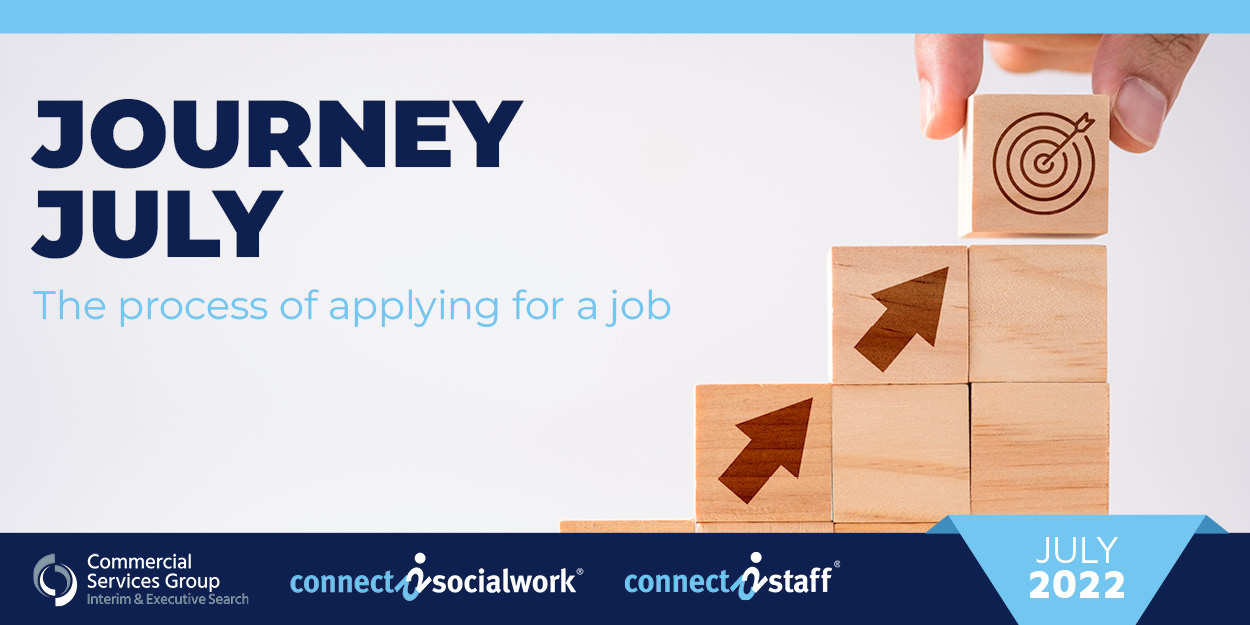 28 July 2022
Journey July: The Process of Applying for a Job
Preparation
Research the companies you are considering applying to – start by heading to the company's website and reading through the "about" page. You can connect with some of the current employees on LinkedIn to get further insight and search for any recent news, events, or reviews for the company.
Clean up your LinkedIn profile – This may not be relevant for all, but if you have a LinkedIn profile, it's time to update it! Be sure to include your experience, qualifications, certifications, any awards, and perhaps some examples of your work. Having this information up to date could be the thing that sets you apart from the competition.
Get your CV ready – Make sure your CV is up to date with all your latest roles and skills, and make sure it's organised. Any gaps in your CV? Extra experience you'd like to have? Check out our latest podcast for tips to upskill!
Application
Time to apply! Read through the instructions carefully – Each application process will be different, whether it be an online form to fill in, or sending documents in a certain format. This is the time to get it right to give yourself the best chance of getting an interview!
Write a cover letter – Tailor this to each role you are applying for, incorporating keywords from the job description, and focussing on relevant skills and experiences. Check out our previous blog for our top tips on writing your cover letter!
Be patient – Hiring managers will need some time to check through applications and sort through candidates. If you haven't heard anything after 2 weeks, this would be a good time to follow up, either by email or give them a call.
Interview
Well done, you've landed an interview! – Now it's time to prepare. Read through any instructions you have been sent, re-read some of that company information, and get a good night's sleep ready for the day.
Allow for extra time to get there – Unless it's virtual, in which case, log on nice and early to make sure your system is updated, and you have the software you need. Turning up late will give the wrong first impression, plus it'll make you feel flustered and more nervous.
Answer truthfully and concisely – Focus on the questions being asked and tie in your experiences to the job description. Honesty is key – you don't want to claim to be an expert at something and get caught out later.
You can read our ABC's of interviews here for extra preparation.
Post-Interview
Ask about the next steps – There may be more steps to come, so it's good to be prepared early on in the process. This will also give you an indicator of how long it will be until you can expect to hear from them.
Follow up – Within the next few days, it's a good idea to reach out to thank the interviewer for their time and reiterate your interest in the role.
Good luck! – Fingers crossed you receive a job offer! If not, don't fret. Take it as experience and reflect on what you may do differently when the next opportunity arises.
We recently caught up with Recruitment Service Director, Stephen Hoban, to talk all things recruitment, jobs, and more! To continue your journey, check out our podcast here
Don't forget, we're here for you! We have a dedicated and knowledgeable team of Consultants ready to work with you in securing your next role, so get in touch today by calling 0808 281 9533 or email info@connect2luton.co.uk.

Share this blog post
Why not subscribe to this blog and receive blog updates!
Subscribe