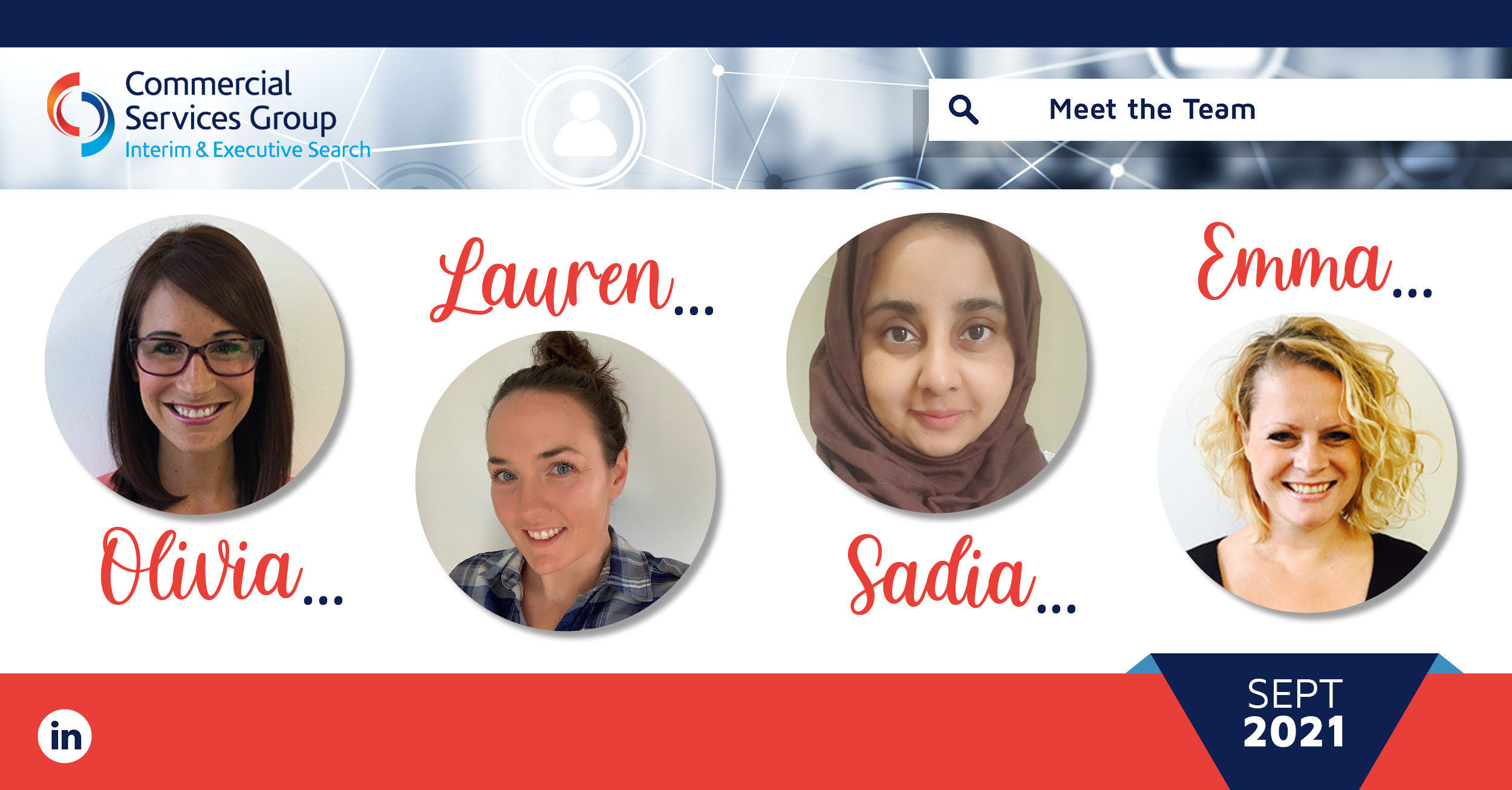 13 September 2021
Interim and Executive Search - Meet the Team
Established by Kent County Council in 2003, the Recruitment division has developed to support over 60 Local Authorities and NHS Trusts with sourcing and on-boarding strategies to unlock hard to find talent.
Hi! My name is Olivia. I am a Head of Practice for Interim & Executive Search.
I provide an agile, proactive, partnership on a national basis to recruit the very best from the widest talent pools. Working with Local Authorities, LATCos, Acute Trusts, CCG's, Higher Education and Not for Profit organisations. I have a proven track record across these sectors and multiple discipline job roles at a senior level. I joined the Commercial Services Group from market-leading, executive search and selection firm, Veredus.
Before my three year spell at Veredus, I held Account Management roles at Capita. I am accountable for ensuring the delivery of on-time fulfilment and communications with clients, along with the management of a dedicated team of Talent experts. I am a specialist in delivering retained search and permanent recruitment campaigns, across a number of Executive and Senior roles within Finance, Housing and Health/Social Care.
Hi! My name is Lauren. I am a Senior Recruitment Consultant recruiting for Interim Local Authority roles across the UK.
I work across many different sectors and I have had to utilise a lot of headhunting skills to find very niche and hard to source candidates. Sectors I work within include Public Health, Commissioning, IT, Project Management, Environmental Health and Educational Psychology. I love the variety that this role brings and no 2 roles are the same. I love finding that 'hard to find' interim that is going to help Local Authorities achieve their short and long term goals.
Fun fact: On my honeymoon, me and my husband travelled to Sri Lanka and toured the island for a couple of weeks. We spent 12 hours one day in a car going into the mountains to our next hotel. When we arrived we were so far up that we were above a rainforest watching the monkeys swinging from the trees below. We were also sitting in the restaurant with clouds circling around us and our food! Very surreal!
Hi! My name is Sadia. I work as a Recruitment Resourcer for Interim and Executive Search.
I source and select candidates, network, and advertise roles for potential candidates, identify skills to match appropriately with vacancies, and deal with general queries relating to contracts, pay, etc. A few examples of sectors I help are IT, construction, social care, facilities management, public health, commissioning, procurement, marketing, finance, HR, health.
Fun fact: On busy days, I have got some sort of time anxiety and can't focus without checking what time it is every half an hour or so!
Hi! My name is Emma. I work for the Interim and Executive Search team, on Accountancy and Finance roles, HR and Procurement - all for Public Sector and Not for Profit Organisations.
I studied Performing Arts at college and most Christmas's could be found on stage in Panto, I once played Principle BOY in Hansel and Gretel ("oh no she didn't"). I still help out backstage every year in our local Panto.
Fun fact: I also once met Anthony Hopkins and he looked me deep in the eyes and said the famous line from Hannibal Lecter "I ate his liver with some fava beans and a nice chianti." He then sucked through his teeth, and proceeded to get me a signed photo!
Get in touch today to find out how we can help you!
Share this blog post
Why not subscribe to this blog and receive blog updates!
Subscribe