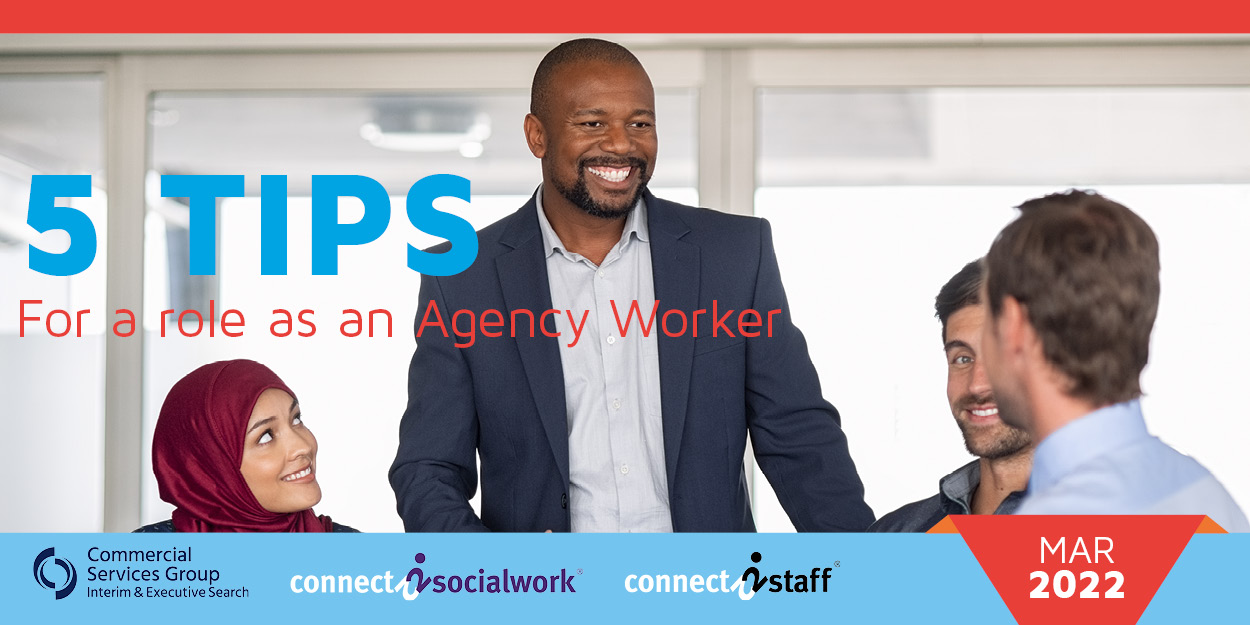 13 May 2022
Five tips for a role as an Agency Worker
Some of you reading along with our blogs and checking out our site may not be looking for ways to write a CV or interview tips, etc. Some of you may be looking for a job in recruitment or be a part of a recruitment agency yourself! If that is indeed the case then you may be interested in this blog where we will go over some top tips for a recruitment agency worker. If you are already working in the industry, hopefully, you will be nodding your head along in agreement but if you're planning on moving into the recruitment industry then keep these five tips in mind:
Tip #1 – Treat new applicants the best you can
Some applicants and candidates may be apprehensive about joining any recruitment agency, let alone the one you may be working for. Get them excited about working alongside you and help them trust that you're the best agent for them to get a job with. Be respectful of their time and schedule and make sure that you are available to them as often as possible. Try to make them feel comfortable with you and your office so they feel happy and welcome!
Tip #2 – Make attention-grabbing Job Descriptions
It's the easiest way to grab the attention of your potential candidates en masse. The best job descriptions have the following: An accurate job title that is as specific as possible, an interesting and exciting summary that will get the candidates engagement, have a description within about 1,000 to 2,000 words (these receive 30% more applicants), and finally include the essential information about the job but describe it as emotively and as passionately as you can while also letting the candidates know exactly what it is they will do and need.
Tip #3 – Utilise social media and sponsored jobs
One of the main difficulties of reaching candidates is the competition. In order to get connected to the right people, you need to advertise your positions as effectively as you can and get them to as many people as possible. This means advertising on any social media platforms about your company/openings and using sponsored job openings on sites like Indeed as well. This will lead to higher-quality applicants and more company exposure if more people begin to connect with you.
Tip #4 – Success breeds success
A bit vague, but what we mean by that is if you do really well with one candidate then that will lead to you doing well with others as well. Any candidates you do well with will recommend you to a friend. Make sure you let your success story know about any referral programmes you may have now you've got yourself another candidate looking for a success story of their own! As you get more experienced you will start to note what positions work best for certain skill sets and personalities. The list goes on!
Tip #5 – Keep yourself in the know
If possible, keep checking up on past candidates and how they are doing – are they happy in their position? Have they progressed further in the company? Check out other job descriptions being posted by the competition and see how theirs might be different and how you could improve your own against theirs. If there are any industry conventions or meets that you can attend to improve your knowledge we highly recommend going to keep yourself as knowledgeable as possible.
Hopefully, these tips can get you started but remember we have a whole team of people who are experienced in the industry so get in touch!
Share this blog post
Why not subscribe to this blog and receive blog updates!
Subscribe