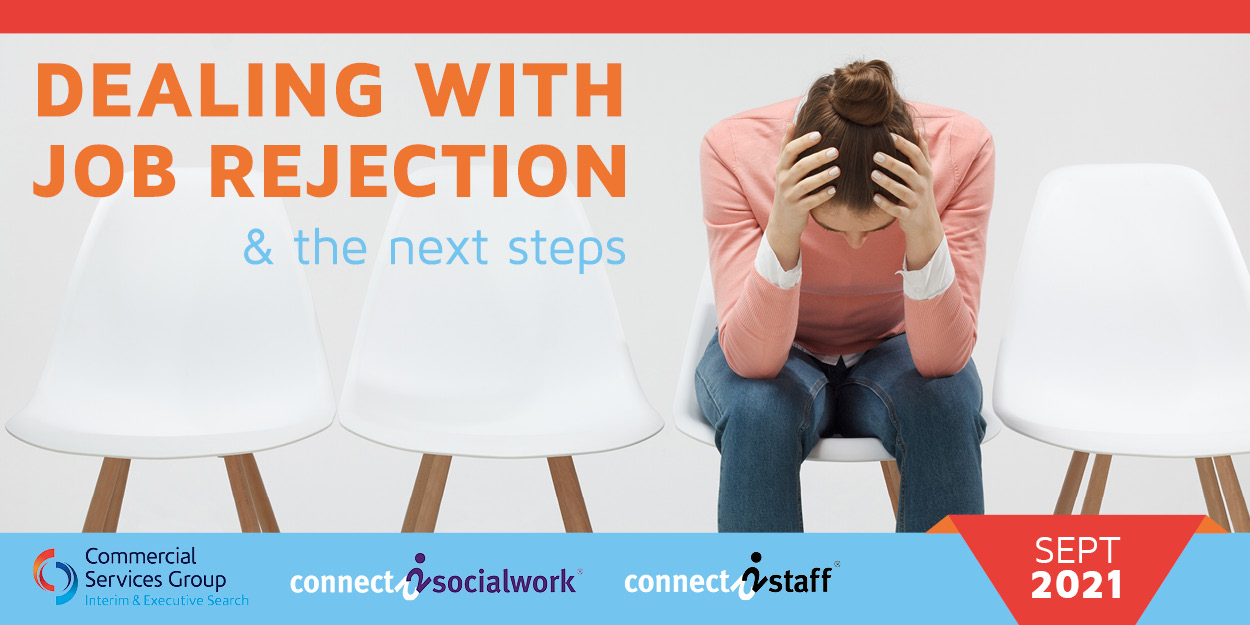 14 September 2021
Dealing with Job Rejection and the Next Steps
We talked before about tips for calming interview nerves (catch up here 7 Tips for Calming Interview Nerves (connect2hampshire.co.uk) if you missed it!), and now we're going to look at the next step.
The interview is over, you've done all you can, and the email comes in. It's the interviewer, letting you know you have been unsuccessful this time. Dealing with rejection is difficult in all aspects of life, and with job interviews, it can feel like a step back – but it doesn't have to be! We're going to explore ways to deal with rejection to help you learn from it, and be prepared for the next opportunity.
Don't rush your response
Whilst it's good practice to respond to the recruiter within a few days to thank them for the opportunity and ask for feedback, try not to rush into doing this straight away. Take some time to process your feelings and reflect on the experience to avoid negativity in your response. After all, you may be eligible for a different role or go on to work with them in the future, so it's best not to burn bridges!
Analyse the process
You have the feedback, now add your own notes for what you think went well and what could be improved. Look back at the job description and the company values to reflect on your experience. Remember that the job market is very competitive (especially with the circumstances of the past year), and this makes it likely that they're not rejecting YOU – there was just someone else who was a slightly better fit. There will be a better place for you out there!
Don't give up
Another experience gained, it's time to move on. Perhaps your reflection has led you to notice some gaps in your skillset – if this is the case, there are lots of free online courses you can take to improve and feel better prepared and more knowledgeable for the next interview. Maybe you need to narrow your search. There are new roles being created all the time, and there may be one that better fits your goals and progression. Cater your CV and covering letter to these and be selective in your applications to see better and more fitting results.
Surround yourself with positivity
Try not to take rejection personally – there could have been hundreds of applicants for the role, and all but one of them were rejected too. Talk to friends and family about your frustrations and allow them to be your support system. This could even lead to new perspectives and potential opportunities!
Consider working with an agency
Connecting with a recruitment agency can be a great way to make the process easier and less stressful. With experts in several sectors, they know what companies are looking for and can help you with all stages of the job search. Plus they can offer great feedback and assist you in putting all the lessons learnt into place ready for the next time!
Connect2Hampshire is part owned by Hampshire County Council and therefore has access to all general temporary agency roles at Hampshire Council before they go to external agencies. This means by registering with Connect2Hampshire, you'll be first to hear about opportunities!
Share this blog post
Why not subscribe to this blog and receive blog updates!
Subscribe