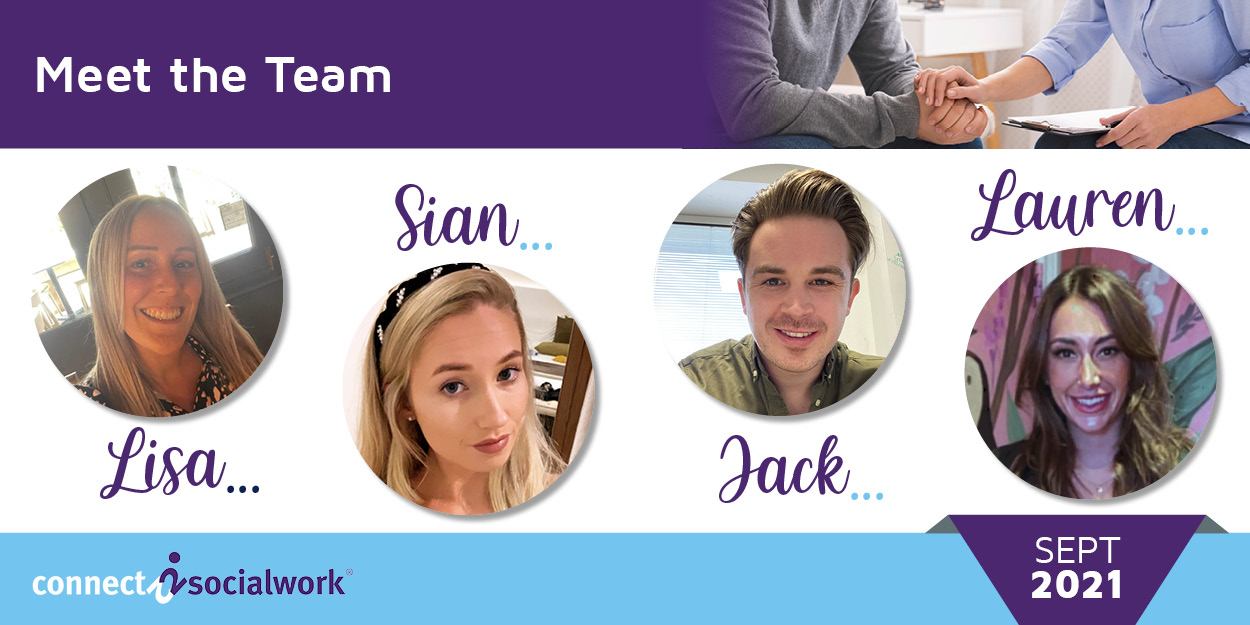 16 September 2021
Connect2Socialwork - Meet the Team
Connect2Socialwork are Social Care recruitment specialists, unlocking Social Work talent for the public sector. Meet the team!
Hi! My name is Lisa, I'm a Senior Recruitment Consultant.
I have been in Recruitment for 6 years now and have worked with the QSW team for 3. Not only do I love building great relationships with my workers, but I also have the opportunity of working alongside amazing people that put their all into offering Children, Adults and Families a better chance at life. It has to be the most rewarding sector I have worked in to date.
I am a massive foodie, fortunately, I am also part of the 'Peloton cult' as some would say, good job really, haha! I have two fur babies, Frank and Betty. Both love the sound of their own voices and regularly interrupt calls and meetings now we work remotely. 2020 - 2021 has been an eye opener. With restrictions being lifted, I want to spend time with family and friends and getting back out to see the world! 
Hi! My name is Sian. I am a Senior Recruitment Consultant within Connect2Socialwork.
I have worked in recruitment for 5 years and have specialised in QSW for 3 years now. I love getting to know my candidates personally and learning as much as I can about the sector so I can provide an efficient and thorough recruitment service. It is such a rewarding sector, knowing the people I work with are changing and shaping lives.
I just finished renovating a house with my boyfriend, it was very stressful but very happy with the work! I love hiking and going to the Lake District , not been in a while so hoping to go later this year. If I won the lottery, I would open an animal rescue centre and rescue as many animals as I could!
Hi! My name is Jack. I work as a Recruitment Consultant for Connect2Socialwork.
I have worked in Recruitment for 3 and a half years now across three very different sectors. Social Work recruitment has definitely been my most challenging but also my most rewarding of the three. My favourite part of recruitment is getting to know my candidates on both a professional and personal level.
I am gay and have been with my partner for over 7 years now. Coffee is life. I love going out for a coffee with friends especially those I no longer work with. In my down time I like to read or watch, anything fantasy/sci-fi (especially Harry Potter).
Hi! My name is Lauren. I am the newest Recruitment Consultant in the Connect2Socialwork team.
I have worked in recruitment for the past ten years in a variety of sectors, for the past two and a half years I have specialised in social care. I enjoy communicating with social workers and feeling like I am helping them to make a difference. Social care recruitment is challenging, however I thrive on competition.
I am a foodie! My absolute favourite is Japanese. I love to travel, pre COVID and can't wait to start again. My goal for 2021 is to buy a property.
Get in touch today to find out how we can help you!
Share this blog post
Why not subscribe to this blog and receive blog updates!
Subscribe